How to choose your next office printer!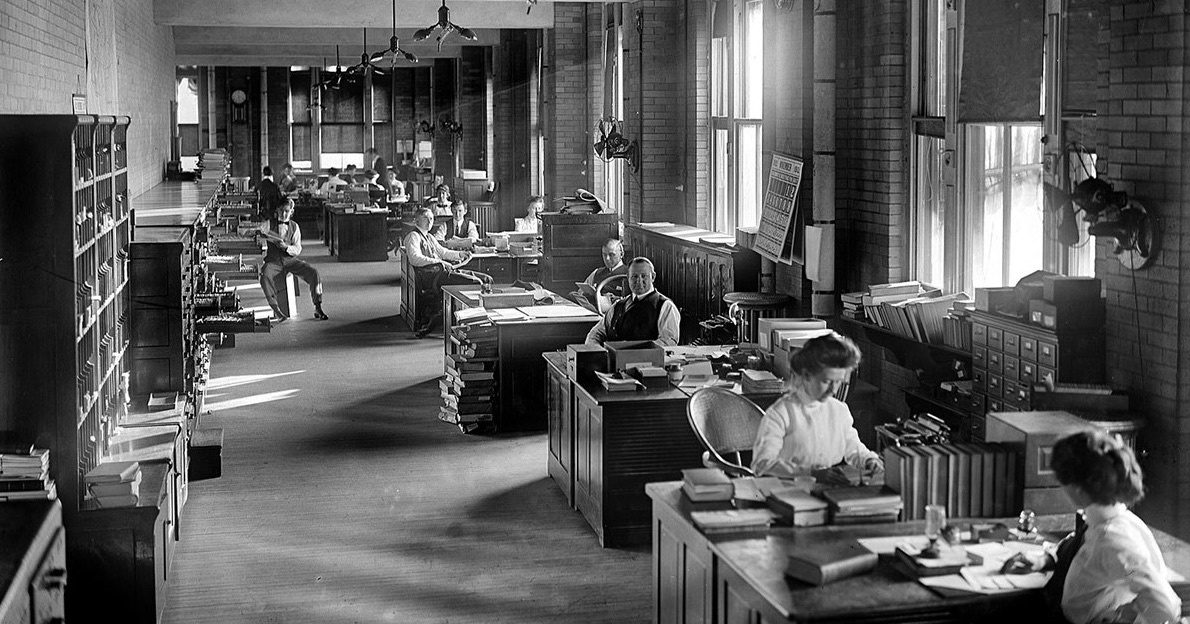 The offices of the Government Printing Office, Washington, DC in November 1912
No two business are alike and printing needs can

vary considerably so one solution doesn't fit all.
Office printers and copiers can cost anywhere from $500, to $10,000 for top of the range professional and multifunction models. But it is critical to factor in the cost of ink or toner cartridges as what might initially look to be a reasonable cost for a printer/copier, may very well be more expensive in little over a year.
We assess your document print needs
It may seem obvious, but many businesses fail to really understand what they actually need, when considering a new printer. Too often they will simply look to replace what has been previously proposed or supplied, without considering how things have changed in their business or what their current and future needs could be.
When you talk to the team at InkXpress about your office print requirements, we look for a total document print solution specifically for your office environment, and we start by finding out exactly what you use a printer or copier for.
What type of business does your company or department perform?

How often do you print?

How much do you print in mono or colour?

Do you need a scanner and photo copier?

Do you print graphics and photographs?

Do you need to print A3 or other sizes of paper?

Do you need a document finisher?

Do you need special media handling for printing on heavy card or long banners?

What volume of photocopying or scanning does your business do? Speed is critical with high volumes.

How many computers and/or devices will you need to print from?

Do you need to track all printing within a network, keep print logs, by user, printer, department, or office.
Multifunction (MFP) or Printer?
Multifunction printers (MFPs) sometimes called an all-in-one, print, copy, scan, and fax. Printers just print images or documents from your computer, but these can range from a basic mono desktop printer, to a top of the range professional printer.
MFPs, will also print documents from your computer or other handheld device, but also scan documents to make photocopies, and some are able to send and receive faxes. Most come with Optical Character Recognition (OCR) software so you can scan in a hard-copy document that can be read as a Microsoft Word file.
LED, Laser or Inkjet Printer?
For the average home user, desktop inkjet printers will generally cost less to purchase, but in the long term, they often cost a lot more in higher running costs of the consumables/cartridges. It is well known that the ink in desktop inkjet printers is about the most expensive liquid on the planet.
But because they can print on specialty papers (e.g. gloss photo paper) they can produce exceptional glossy photo images for framing. If used infrequently, however, the heads can become clogged and they require regular cleaning. Often the cheaper ink cartridges are sold in a bundle, so users are forced to buy cartridges they may not need. Some brands have a greater range of cartridges (photo colours required to counter fading) over and above the standard black, cyan, magenta and yellow so there are more cartridges to buy. So all in all inkjet printers are more expensive in the long term.
Laser and LED printers are great for printing high-quality documents in mono or colour, creating sharp-looking text and excellent color graphics. Laser printers work by melting plastic toner powder onto paper to create the image on paper upto 260msg. As they don't use print heads, they don't clog but they use a single laser beam as a light source that is divided by mirrors to send light to the image drum, so the internal structure is complex and the printer body large to accommodate this.
Whereas LED printers send light directly to the image drum, so they can be designed without mirrors and offer a shorter distance to the image drum, which reduces the size of the printer body. The simple internal structure in turn simplifies maintenance.
So, if your office does a lot of printing a colour LED or laser MFP will be more cost-effective and durable, being designed with businesses (large, medium or small) in mind and have a much longer duty cycle. And depending on the machine and the cartridge's "yield,", new toner cartridges can print from 2,000 to 15,000 pages and beyond (calculated at 5% page coverage), making them more cost effective in the longer term.
Colour or mono printer?
For all printers and MFP, colour cartridges cost significantly more than the black. However if you expect a colour printer to use only black ink to print a mono (black text) page, that's not necessarily the case. Many printers use a mixture of inks, some as much as 50% from the colour cartridges, driving up the cost per page.
Mono Laser printers are generally both cheaper and smaller than colour printers and are economical on ink.
Previously, printing in white has been expensive and time consuming , and most often handled by larger print houses. However, recent innovations in LED Technology have enabled graphics businesses to print in any colour, including white, on a range of media, simply and cost effectively. A white toner printing offers designers and graphic studios new flexibility in printing, proofing and production. White toner is often required for the production of transparent signage, labelling matterials, as well as printing white on dark media.

Printer Compatibility
Printers are built to work with the most current computer operating systems and should continue to work with most major devices as software is updated, and product support is maintained.
What is 5% coverage and CPP? click here to find out more:
https://www.inkxpress.com.au/so-what-is-5-coverage-and-cpp/