Testimonials


We believe our clients are our biggest supporters and offer the best insight to new clients. It goes without saying that happy clients make all the hard work worthwhile, so here's what a few had to say!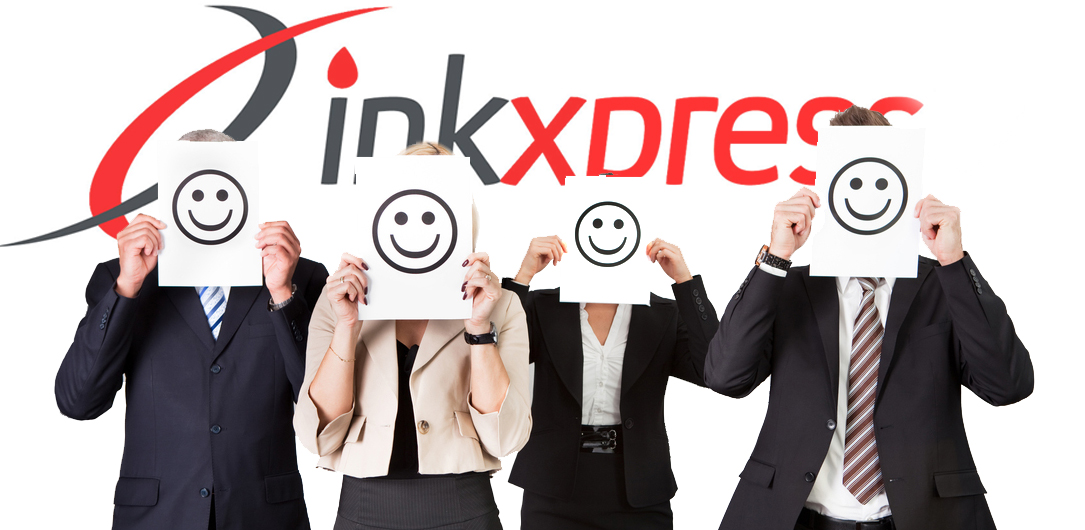 I use the Oki ES5743MFP as both a home and office device and have found the quality of the printout and colour reproduction to be better than any other device Ive owned. The ability to double side in a small device is a huge benefit. This together with the super fast copy/print/scan and home WiFi direct print integration makes this the ideal solution for my home and home-office.
A Brian - NSW
We upgraded all our printers and photocopiers. Not only did we get bigger, faster devices, we also reduced our printing costs by 50%. I have no hesitation in recommending inkxpress.
Ian B - S & B
I must say that you all give such good service. I contacted Lexmark as well and they have replied too with a video link. It helps a lot and you are a good example of what customer service should be like – you understand that a printer is important to us all. If only the phone companies and many other businesses provided similar attention and quick response – many thanks
Robert W - QLD
"Inkxpress has served all our printer needs from hardware to peripherals. Even helping install and replace when necessary.A great company to do business with, dependable and reliable, quick and efficient. Hopefully for a long time to come!"
Alan M. - NSW
"My employer has used InkXpress over the years for their printer and printer supply needs. We couldn't speak highly enough of their second to none customer service. They go out of their way to make sure your requirements are met. For me personally, I love the work Lexmark printer so much, I bought one for home for my family's personal use. Brilliant! Thank you inkXpress."
Adrianna L. - NSW
"Extremely happy with my Lexmark CX510de. Easy to operate and very efficient. Has all the features I require including wireless printing, fax to email. Can't fault the service from Inkxpress and Lexmark. No hesitation in recommending this printer, can be operated via the PC or via the large inbuilt screen."
Peter. - NSW
"We were having all sorts of frustrations with our old copier until Inkxpress recommended the Lexmark CX510de. Its functionality is perfect for our needs and has been a great investment. Our thanks to inkXpress for their advice and prompt service. Two great providers linked together."
Neil W. - NSW
"The Lexmark CX510de is for anyone serious about spending as little time as possible in setting up a network and wifi enabled printer, and achieving superb quality duplex printing, scanning and copying! The high yield toner in is a must for heavy duty SoA printing, and the quality after sales service provides friendly and instant support. Highly recommended for anyone who just wants their printer to work without flaw - every time!"
Waikay - QLD
"Having decided to upgrade from an inkjet printer, I was amazed with the increased speed, improved quality of printing and great colours produced by the Lexmark CX510de Business Colour Laser Multi-Function Printer. The price is great value from inkXpress and the ink cartridges seem to last forever."
Neil M. - NSW
"Excellent service. Prompt in replying to an email. Prompt in delivering orders. Great phone manners. Great with helping though with issues The Lexmark CX510de is very reliable for such a busy practice we have had very little issues. Ink lasts for long periods of time. Quiet in sound, running for two half years and still going strong"
Aless - Wetherill Park NSW
"We purchased our machine in April and we have been extremely happy with output for our small business. Quality of colour for reports is excellent."
Maryanne - QLD
"We've found the Lexmark CX510de to be reliable and economical to run. Installation was simple and it's packed with all the features you'd expect in a much bigger printer. Lexmark support has been great and Inkxpress have been a pleasure to deal with."
Justin - NSW
"I'm extremely happy with the Lexmark. Starting a new business is daunting but the Lexmark has made it so easy to print and scan from all devices and computers. Thank you for the recommendation!"
Alex - VIC
"Following a printer issue, Natalie and Ian both provided me with exceptional service"
Steve , Wealth Managment - NSW
"THANK YOU Thank you for your prompt service. Terrific!"
David & Jo - Orange NSW
"I have received your parcel; everything is perfect and thank you for your generosity. I have just sent a plug for you to 3 people, hope it gives a result."
Leonie - WA
"Thank you so much Ian your customer service is outstanding, thank you for the extra cartridges."
Sharon - NSW
"We received the order this morning - what an exemplary service you give. We are most impressed and have told our colleagues about it."
Frances - SA
"Thanks for the prompt service, as always."
Julie - NSW
"I use inkxpress exclusively. The product is excellent and the service is superb!"
Richard - NSW
"Nice one Ian! It would have been easy to just let it go, but instead you have been more considerate than you needed. I would never have known without you telling me, this leaves me feeling very impressed - thankyou"
Peter - WA
"A quick note to let you know how impressed I am with the service! The toner arrived today (as you said it would). It is nice to see a company that provides great value and service. Congratulations to all concerned."
Leah - QLD
"We were very happy with the speed of delivery as the cartridges arrived the day after we ordered them with you. We are very happy with this service & will continue to use inkxpress!"
Rene Office Administrator - QLD
"Your service was excellent, thank you very much and we will be using your company again. "
Christine Office Manager - WA
"Hi there, just wanted to say thanks for the fantastic service! No freight charge, & good prices. I received my order in less than 24 hours, that's really a WOW factor. That was my first order, it won't be my last."
Judy - SA
"Just too EASY!!!!! BEST PRICES and delivered to our office the same day. 'inkxpress', you need to be congratulated on your business model! You have raised the bar, when it comes to service." regards, Andy Financial Planner NSW "
Andy Financial Planner - NSW
"Just wanted to let you know that I appreciate the excellent service your company provides. Thank you. Each time I have ordered from you I have been very impressed with your efficiency and speedy delivery. Have a nice day and I will definitely order again. "
Anona - ACT
"Hi Christine, Just wanted to let you know that we are really impressed with inkxpress, the prices were competitive and the services is great. We placed an order for 6 cartridges this morning and they were delivered to our office this afternoon. Kind regards Angie NSW "
Angie, NSW
"Wonderful service thanks-my order arrived prompt this morning!!"
Karen - NSW